(Tiếng Việt bên dưới)
It was such a magnificent day and our friends last day of their holidays. We decided to go to Ninh Hoa for lunch. We got to a local fishing village at Luong Son and stopped to take some fantastic photos.
Ngày cuối cùng trong kỳ nghĩ dường của những người bạn đến từ Úc đã là một ngày trên cả tuyệt với. Chúng tôi quyết định chạy xe máy ra Ninh Hòa để ăn trưa. Chúng tôi đã đi qua làng cá ở Lương Sơn, tất nhiên cả đoàn đã không quên dừng lại và chụp ảnh.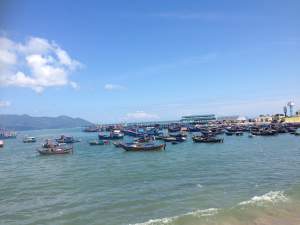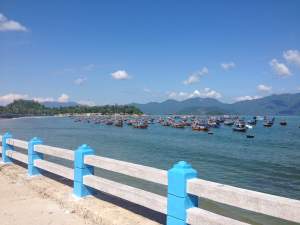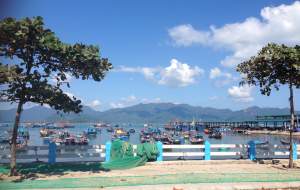 We decided instead of Ninh Hoa lets go to Van Gia and sit on the beach and eat Banh Mi for their last lunch. The countryside was sensational.
Chúng thay đổi quyết định thay vì đi Ninh Hòa chúng tôi sẽ chạy xe máy thêm một đoạn nữa là đến Vạn Giã, nơi đây chúng tôi có thể ngồi trên biển và ăn bánh mì - bữa ăn cuối của những người bạn tôi nơi đất khách quê người.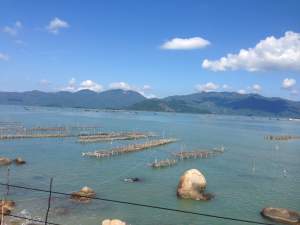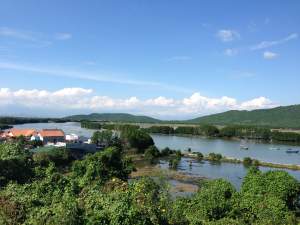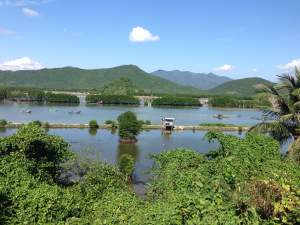 Of course we saw a funny motorbike shot. They were carrying glass and it was so clean it was hard to see what they were carrying.
Hình ảnh hai người đàn ông đang chở một tấm kiếng chính giữa. Phải đến gần thì chúng tôi mới phát hiện ra đó là một tấm kiếng vì nó trong và khó nhận biết từ xa.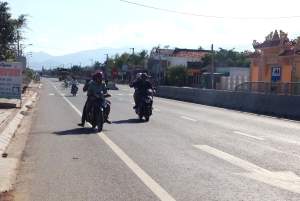 This lady was making new fishing nets.
Hình ảnh người phụ nữ đang đan lưới.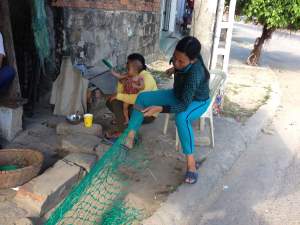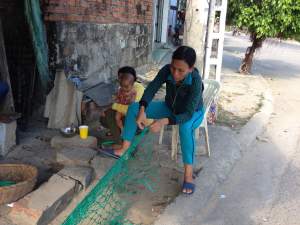 Lunch was tasty as always and what could be better than sitting on the beach.
Còn điều gì tuyệt với hơn khi được ngồi trên biển chưa kể đến là thúc ăn ở đây rất ngon.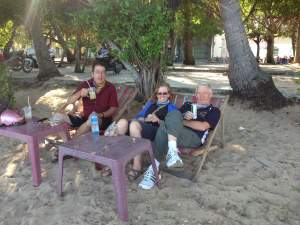 It was all just one hour north of Nha Trang. I highly recommend getting out and about. The country side is sensational.
Nơi đây chỉ cách xa thành phố Nha Trang một giờ đồng hồ. Tôi thấy chúng ta nên đi thăm thú xung quanh. Phong cảnh vùng nông thôn thật là mang lại cảm giác dễ chịu đến lạ thường.